Vacuum Tray Dryer
Established years ago in this domain, we are engaged in manufacturing and supplying the brand quality of Vacuum Tray Dryer which are mainly used for drying high grade temperature and oxygen sensitive products. These offered Vacuum Tray Dryers are hugely appropriate for drying hygroscopic substance, which are dried to very low residual moisture, content level. Frequently vacuum drying cabinets are the sole possibility for drying lumpy, glutinous products or products of low pomposity.
Our manufactured Vacuum Tray Dryer is suitable for diverse function that consists of pharmaceutical, herbal, chemical and food stuff industries. In these dryer there are a number of shelves under which products are placed. The top shelf gives proper heating and helps to avoid dried powder from escaping into the solvent extraction system. We are engaged in manufacturing the dryer under the leadership of our mentor who has years of experience and deep commerce skills, which made us to achieve in a proficient way.
FEATURES
All stainless steel 304/316/ 316L CGMP or mild steel externals with stainless steel internals (vapor and product contact parts)
Hollow pad type heating shelves which are easily removable for maintenance
Condenser and condensate receiver fitted on the dryer body or stand alone for remote installation
Fully welded skirt on vacuum dryer body for flush mounting through the wall.
Steam sterilizable models available.
Double door loading available for larger models.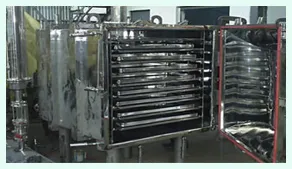 Capacities 6 To 96 Trays